As iron sharpens iron, so one man sharpens another.
At Church of the Servant, we believe that becoming a fully-committed follower of Christ involves more than simply coming to worship each week. It is a three-fold process that involves worship, service, and small group experiences. One way of becoming involved in a small group is by joining in one of the several Bible and book studies that are being offered each fall and spring. Consider becoming a part of one of these classes and you will enjoy great teaching, discussion, and prayer while building friendships that enrich your life. For more information, email
Jessica King
.
Tuesdays, 6:30-7:30 a.m. | Ongoing | Community Hall | Men
Resumes January 25: Grab your Bible and join a group of early-rising, God-filled, fun-loving men in a study led by our senior minister, Dr. Matthew Mitchell. No registration required. Due to COVID-19, donuts and coffee will not be served at Buck and a Bible. Feel free to bring your own mug of coffee.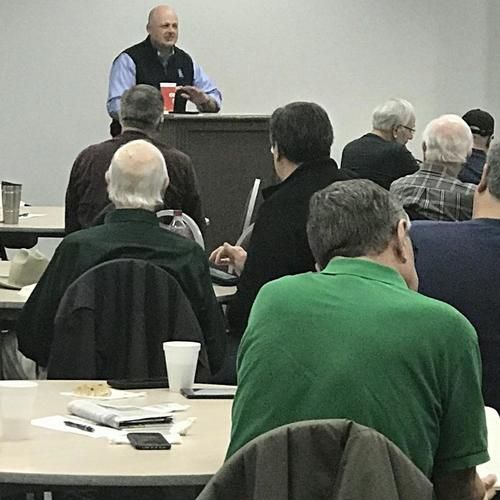 Servant Women in the Word
Tuesdays, 9:15-10:30 a.m. | Ongoing | Community Hall | Women
Resumes January 25: This large group Bible Study is a favorite among many women as it appeals to the beginning follower as well as the seasoned believer. Each session is essentially an independent study, so even if your schedule will prevent weekly attendance, feel free to attend as often as possible. Join us on Tuesdays in the Centrum. For more information, email
Jessica King
. Childcare available.
Precept Inductive Study Series
GAINING A TRUE KNOWLEDGE OF CHRIST SO NO ONE DELUDES YOU!
Wednesdays (In-Person), 9:30 a.m. | Thursdays (Zoom), 6:30 p.m. | All
What does it mean to be "complete in Christ"? Is Christ your "all in all" - does He meet all your needs? Don't let anyone delude you with man-made philosophies or traditions that contradict the Word of God. Come join me as we journey together through God's Word.

Depending on the status of COVID, it is my hope that we will be in the classroom setting beginning Wednesday, April 6 at 9:20 a.m. and an evening Zoom class beginning Thursday, April 7 at 6:20 p.m. REGISTER BY MARCH 28, 2022.

– Nancy Harris, Precept Leader


EVERYTHING WE DO IN LIFE SHOULD BE LINED UP WITH THE WORD OF GOD. IT IS OUR PLUMB LINE!
To register, email Nancy Harris at
nancyquilter@cox.net
or text her at 405-420-5463. Please include name, address, cell number. COVID vaccinations and masks are required for in-person meeting.
Sign up for a LargE group Study
We'd love to get you connected to a Bible study.
Fill out the form below to get started.
Large group studies help people grow in their faith and build community. Our groups take place throughout the week, so use this form to find a group that's right for you. We'd love to have you join us!